The Summer is just about over and the temperature is easing up but our schedule certainly isn't!
We have had a busy few weeks including playing at some great Festivals such as Twinwood and Route 66 in Switzerland as well as the first Big Jive All-Dayer in the Netherlands and a music video shoot in Paris. Read on for the latest news and up-coming shows (including our next gig this Saturday at Horatio's on Palace Pier Brighton with a £5 discount if you use promo code "alex" at checkout!).
The Big Jive All-Dayer Netherlands
We had a great first-ever international version of the Big Jive All-Dayer in The Netherlands on 3rd September.
Thanks to our co-promoters Pelikaan Vintage Events and all the bands, DJs and especially the audience who showed up for 12 hours of fine jiving!
We now have some great photos and video of the event!
Above are a few shots but you can see the whole album by CLICKING HERE.
You can also see a bunch of videos from each of the bands on videographer Peter Aert's channel HERE.
Plans are afoot for next year but in the meantime...
The Big Jive All-Dayer 2023
Early bird tickets are now on sale for The Big Jive All-Dayer 2023 and we have announced the full lineup!
Get ready for Saturday 25th Feb, 1pm to 1am for 12 hours of non-stop jiving.
Join us with King Pleasure and the Biscuit Boys, Midnite Crawlers, Rockin'Em and new singing sensation from Ireland Alan Power and the Aftershocks.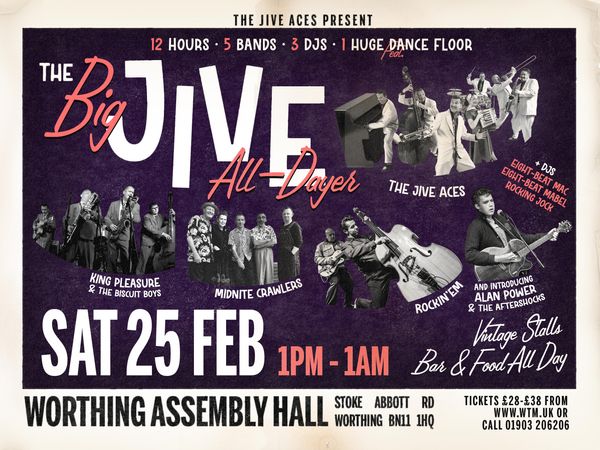 Tickets are available now from wtm.uk/events.
For the Facebook event link, CLICK HERE.
The Jive Aces "Not Quite Christmas" Show
As previously mentioned, tickets are also on sale for the Jive Aces "Not Quite Christmas" Show at the Aldwych Theatre in London on Mon 12th Dec however the new news is that we have also finalised our line up of fantastic guests for this fantastic extravaganza!
Joining us will be none other than the Godfather of Swing himself, Mr Ray Gelato, TV actress, vintage vocalist and long-time friend Rebecca Grant, the incredible trio that is The London Belles, award-winning tap dancer Adele Joel, sultry songstress Noelle Vaughn and as mentioned above, recently discovered rock 'n' roll singing sensation from Ireland, Alan Power.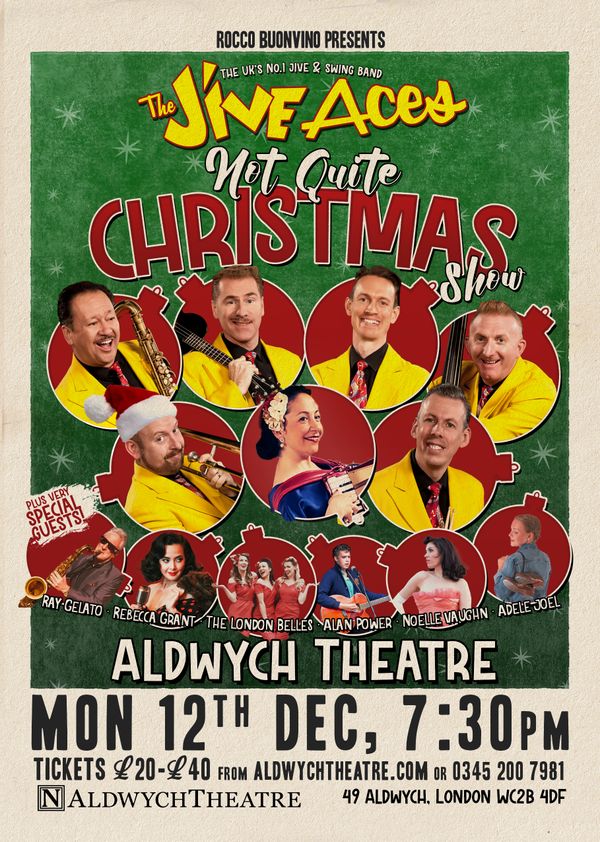 If you want the best seats in the house then get your tickets now HERE!
The Roots Of Elvis Show - London
This little show we have coming up is a bit of a fun side hustle, an afternoon of the music that inspired the King of Rock 'n' Roll on Sunday 16th Oct at 4pm at Upstairs At The Gatehouse in Highgate, London.
Tickets are very nearly sold-out but the venue has managed to squeeze a few more seats in so if you don't want to miss out then you should get your tickets HERE.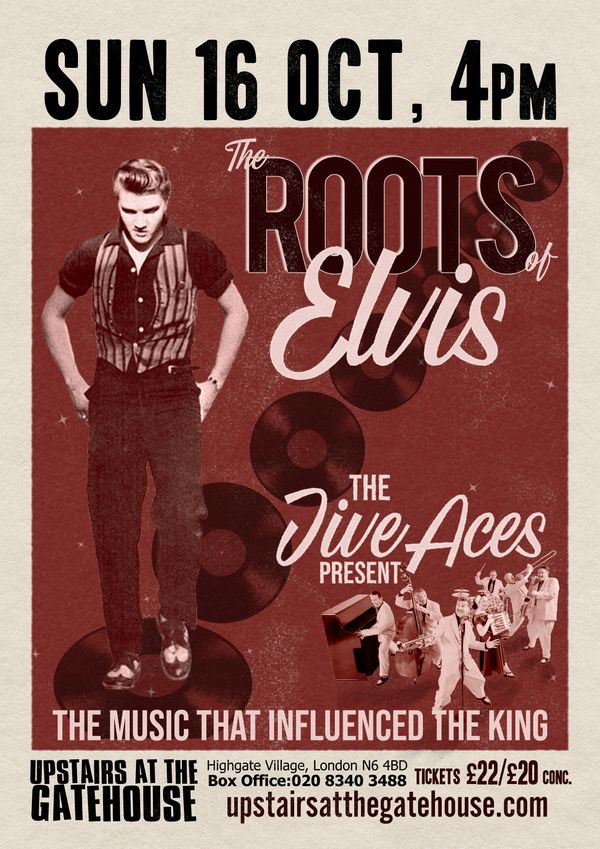 Coming Up
Lots coming up including another trip back up to Scotland (which we love!) very soon!
Sep 24, 8:00PM - PierFest, Horatio's Bar, Palace Pier, Brighton
Sep 30, 7:30PM - Callander Jazz & Blues Fest, McLaren Leisure Centre
Oct 1, 1:00PM - Callander Jazz & Blues Fest, McLaren Leisure Centre
Oct 5, 8:00PM - The Bungalow, Paisley
Oct 7, 9:30PM - Stramash, Edinburgh
Oct 16, 4:00PM - The Roots of Elvis, Upstairs at the Gatehouse, London
Oct 22, 7:30PM - Land Rover Sports & Social Club, Solihul
Oct 29, 9:30PM - Warner Hotel, Sinah Warren, Hayling Island
Oct 30, 1:00PM - Ronnie Scott's, London
Nov 12, 10:30PM - Boogaloo Weekend, Royal Bath Hotel, Bournemouth
Nov 17, 8:00PM - Warners Heythrop Park, Enstone, Chipping Norton
Nov 20, 2:30PM - Bibi's Italianissimo, Leeds
Nov 26, 9:30PM - Wildest Cats in Town Xmas, Pontins, Lowestoft
As usual, all ticket links, further ahead dates, updates and additions are at jiveaces.org/tour.
See you at a show soon!