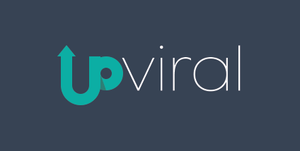 I first came across UpViral because I read a lot about filmmaking and the associated equipment and one site, in particular, Planet 5D, runs a lot of competitions to win cameras and accessories from different companies. After entering a couple of dozen or so I started to think about how I could apply this marketing technique to the band so I looked into the platform.
How it works, in a nutshell, is that you create either a giveaway prize draw and/or a free gift in exchange for someone agreeing to sign up to your email list. That sounds pretty simple, right? That's because it is. However, that's not the best bit, this is: When they sign up they get points and the system generates a unique referral link for each person. If they then share the link on Facebook, Twitter, emails, Whatsapp, Facebook Messenger or any other way then they get more points awarded. You get to decide exactly how many points they get for each action completed, sending someone to the contest, sharing the link on each platform, signing someone up to the contest etc.
And what do points mean? If you know the answer to that catchphrase then you are showing your age!
The more points you get, the more chances you have to win Think of these like a digital raffle ticket, the more you have in the box, the more likely you are to get picked. You can give away prizes when people earn so many points such as PDFs, MP3 downloads etc. You can also award points for people signing up to your social media platforms as well.
I tried a couple of small contests to win a vinyl and another to win some festival tickets to kind of dip my toes in the water. These went OK and I got a few people added to our mailing list as a result. So then I wanted to go for a big one and get a prize set that would really entice a lot of people. Now here is where you have to be smart. If I had bought an iPad or something similar that a lot of people across a lot of demographics want, sure I would have got a lot of people signing up and sharing the contest to earn points but they aren't likely to be potential customers, i.e. people who like the band and will come to a gig or buy an album in the future. I had to think up a set of prizes that would appeal to our existing and also potential crowd.
I surveyed on social media and also just used my common sense to find things and came up with the following prize package:
Crosley Vintage style portable record player 
The Jive Aces "Diggin' The Roots" double album on vinyl 
The Jive Aces "Just for the Record" vinyl 
Complete set of The Jive Aces CDs (11 albums and 2 E.P.s) 
Pair of tickets to a Jive Aces show of your choice 
£100 Vivien of Holloway gift certificate 
Yellow Kala ukulele (the "Bring Me Sunshine" model!) 
One-year subscription to Vintage Rock Magazine 
One-year subscription to Vintage Life Magazine 
"Deliciously Decorated" by Charly White from Restoration Cake
I also decided to give away an MP3 track form the new album when people reached 6 points. To earn that number they'd only have to sign up and share the contest a couple of times.
I then created a webpage on our site where the giveaway was embedded. You can see this at http://www.jiveaces.com/contest. The form is no longer visible as the giveaway has long since ended but it gives you an idea for context.
I then took some photos before a gig on the beach in Deal in Kent when we happened to have three girls singing with us and all wearing Vivien of Holloway dresses to create promotional images for the contest featuring some of the prizes. See the main one below: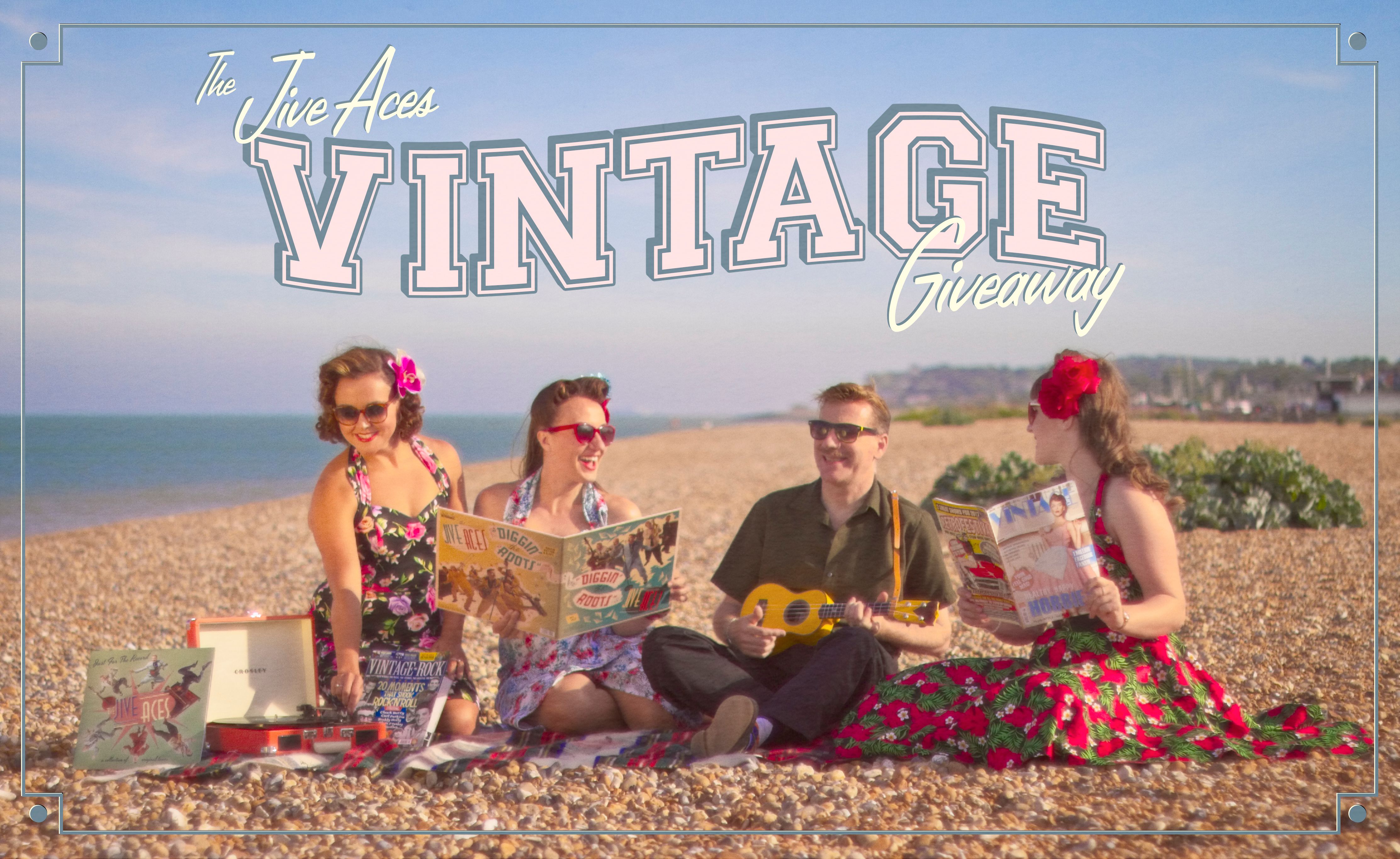 Then I had another idea to involve the companies I got the prizes from and so I told them about the giveaway and asked them if they would promote it on their social media, I would send out a "thank you" email to all the people who entered and as a consolation prize and give them a special offer on their products such as %10 off on their website store for a limited time. That way, each of the brands would get exposed to each other's customers as complementary but non-competing products (magazines, clothes etc).
To be totally honest, I didn't really set this up well in advance with them so I got a little bit of support on this idea but not a great deal. This is the thing I have to concentrate on for the next one so if you are a brand that wants to get involved with this then email me at promo@jiveaces.com!
I ran the contest for a month and here is how it went: I had 759 people sign up, some of whom were on our mailing list already so I got about 560 new people. Not bad methinks! I was hoping for a thousand but I am still learning...
To promote the draw I spent a little money on boosted Facebook posts and an ad, sent it to our email list and posted it on social media copious amounts of times, plus tagged all the companies whose products I was giving away so they could easily share it.
To make the draw really fair (instead of the computer randomly picking a winner) I actually printed out every single entrant's name times as many points as they had (the top points earner had over 500!) and chopped them up into a box. We then did a live stream on our Facebook page and made a big song and dance about it (literally!). You can see the video HERE.
So the key to this I think is finding prizes that will appeal to your target audience that are or are potentially interested in your band/brand/product and then involving as many collaborators as possible and getting the word out.
All in all the platform is pretty simple to use and the tech support was fairly quick too. The interface to set everything up is nice and clean and straightforward and easy to see what you have done and what you still need to do. It also takes you through in a fairly logical step by step order. They are also continually adding new features and quite aggressively developing the platform. In fact, the feature to award people points for signing up to your social media only started after I launched the giveaway so I added it as an option as soon as it was available.
If you are interested in using UpViral, CLICK HERE to sign up. Full disclosure, that's my affiliate link to their service so they'll give me a little slice. But if you do sign up, play hard to get! By that I mean if you go through the process of signing up and give up towards the end they'll come back to you with a discount. When I did it I got a 50% discount for an annual plan paid in advance.
I hope this has been of use to you guys, hit me up if you have any questions!
Cheers, Alex
P.S. here are a few more individual images from the shoot.